McKinney High School
Class of 1969
In Memory **
Wesley Rivers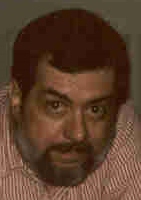 "Mass for Wes Rivers, 56, Troup, will be celebrated at 10 a.m. Monday at Cathedral of the Immaculate Conception, Tyler, with the Rev. Tim Kelley officiating.

"Graveside services will be in Pinecrest Cemetery, Troup, under direction of Stewart Family Funeral Home, Tyler.

"Mr. Rivers died July 26, 2007, in Galveston.

"He was born Dec. 16, 1950, in McKinney to William Warden and Janette Edwina Rivers. He graduated from The University of Texas at Austin in 1973 and the University of Houston, Bates College of Law in 1976. He served in the Jefferson County District Attorney's Office in Beaumont, and was an assistant U.S. attorney in Tyler from 1990 to the time of his death.

"He served on the finance committee for the Diocese of Tyler, and was a member of St. Mary Magdalene's Catholic parish in Flint, as well as the Knights of Columbus. He was a Little League baseball coach for many years, an academic mentor at Whitehouse ISD, and was a founder and president of the Academic Booster Club at Troup ISD.

"He was preceded in death by his father, William Warden Rivers.

"Survivors include his wife, Martha Ann Rodriguez Rivers, Troup; sons, Wesley and Matthew Rivers; mother, Janette Edwina Rivers, Troup; sister, Gail Huber, Nederland; and nieces.

"Pallbearers will be Jimmy Singletary, Robert Hobbs, Larry Eastepp, Ronnie Thompson, Jimmy Webb, Rick Bradshaw, Steve Zanolini and Danny Smith.

"Rosary will be recited at 6 p.m. Sunday with visitation following.

"Memorials may be made to City of God, in care of St. Mary Magdalene's Catholic parish."
Published in Tyler Morning Telegraph on July 28, 2007